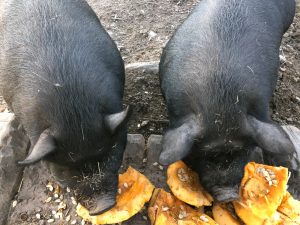 AMERICAN GUINEA HOGS
The American Guinea Hog (not to be confused with the guinea pig) was one of the most common types of hogs found on homesteads in the antebellum South. Often called "yard pigs," these hogs would roam around farms like wild children, eating snakes, grass, acorns, and whatever else they could root up. Guinea Hogs are solid black and small in size, rarely reaching over 250 pounds (though they are not a miniature or "pot-bellied" breed). Extremely efficient foragers, Guinea Hogs require little supplemental feed when they are on pasture. They are active but mild mannered and well-suited to a hot climate. They produce an enormous amount of fat—a valuable commodity in early America that was used for a variety of purposes from cooking to soap making to cosmetics.
Along with corn, hogs were the major agricultural commodity in Tennessee in the mid-19th century. (The duo inspired the nickname "The Hog and Hominy State" during that time). East Tennessee in particular produced a large number of hogs, which were often driven overland into the Carolinas or Georgia for sale. Pork was undoubtedly the preferred meat of antebellum Southerners, and it was also one of the most important staples of the slave diet—providing high energy and protein for intense field labor. James Preston, who owned Exchange Place during this time, recorded in his ledger book that he salted over 4,000 pounds of pork in December 1850!