Main House
This "saddlebag" style log house was first home to John and Letitia Gaines (from about 1820-1845) and then to James and Catherine Preston (from 1850-about 1865).The building is comprised of two story-and-a-half cribs connected by a central chimney and contained under one roof.
It consists of four rooms, the two upstairs rooms being only accessible by an exterior staircase (originally only by a ladder). The east (right) downstairs room, known as the "Gathering Room," served as living room, dining room, office, master bedroom, and hub of general activity for the Gaines and Preston families. On the wall in this room hangs a replica of a block of a beech tree trunk into which Daniel Boone inscribed his name ("D. Boon killed a bar o this tre 1775"). The tree once stood on the Exchange Place property and the original block is still owned by the Preston family.
The west (left) downstairs room was most commonly used as a guest room—and during the Civil War as a space to nurse wounded officers after a local skirmish. The upstairs rooms served as children's bedrooms. Around 1900, a major "remodeling" was done to the Main House in which it was made a full two stories and covered in white clapboard. Also at this time, a two-story ell addition was added to the back of the house. This portion was moved intact across the street in the 1980s and now serves as the caretaker's residence.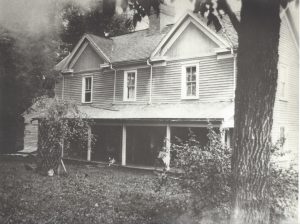 Main House, 1913